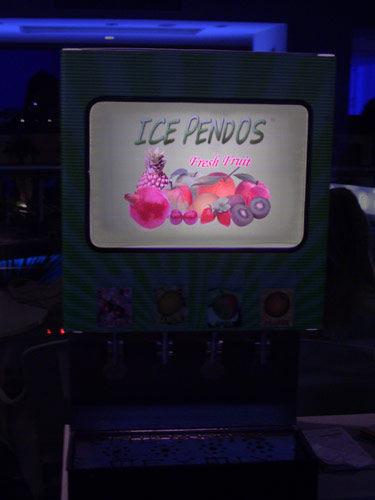 I'm a lucky girl— a friend of mine invited me out to dinner this evening at the Kervansaray Lara, one of the big five-star all-inclusive hotels here in Antalya. I'd been in this hotel briefly before, but had never got a chance to really explore it. Well, let's just say I've taken about a million pictures so far, and although I don't want to waste my evening here on the computer, I couldn't resist taking a moment to share this one photo, because it made me giggle, and because it doesn't really fit in with the theme of all the other photos I'll post tomorrow.
Basically this is a machine that makes fruity-slushy-icey-sno-cone-type drinks, and the joke here is the play on words with Aspendos, the ancient Greco-Roman city near Antalya. Get it, Icependos? Anyway, it's not knee-slappingly funny, but I did think it was clever in a cheesy way. Incidentally, the Icependos machine is broken tonight, so I can't report what they taste like. The Blonde Natashas here are good, though.
I hope everyone's having a great evening. More photos of this amazing hotel tomorrow.