I finally got a chance to try out the wonders of Kitchenette, and I have to say, I was impressed with the food, the service, and the cocktails. A great experience all around. I'll definitely be a regular visitor.
The room fragrance sticks from Zara Home are heavenly.
Normally I'm the type to buy whatever budget wine is on special offer, but this past weekend I did something out of character and spent four times what I usually spend on a bottle. I got this limited edition Consensus wine, and although I was initially freaked out at how much I paid, when I opened it I was absolutely shocked at the quality. I had no idea wine could be so nice. It was so great, in fact, that I've gone back and bought two more bottles for my wine rack. I have no idea when I'll drink them but I'm sure an occasion will come along. I don't need much encouragement.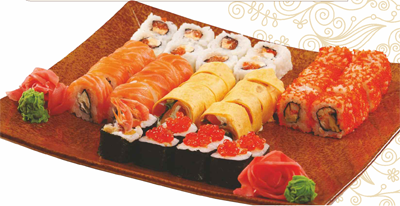 I discovered a new restaurant in Lara that does Japanese fusion food: Cosmopolitan Sushi. This may sound like no big deal, but sushi restaurants are pretty rare around these parts, and to find sushi crossed over with Mexican food is just unheard of. I've eaten at Cosmopolitan twice now, and both times were fantastic. The prices are decent, as well. Link
For a long time I've been interested in the idea of product subscriptions, but have always run into one of two problems: either shipping to Turkey has been exorbitant, or the product has not been interesting to me in the least. When I discovered Bonbon Balm's monthly lip balm subscription, I jumped at it, because for only £5 a month, you can have a new lip balm every month, with free shipping anywhere in Europe. Royal Mail includes Turkey in their definition of "Europe," so I got lucky there.
I've had two balms so far, Mitchum Mint and Tangerine, and both are just wonderful. I love the soft, non-waxy texture, and all the ingredients are natural. I could go on and on about Bonbon's commitment to using organic, fair trade ingredients wherever possible, and I know that's a priority, but really I'm just in love with the way the balms smell and feel. If you live anywhere in Europe, this is definitely a worthwhile use of £5 a month. Link
[Note: this is a completely independent review— I am not affiliated with Bonbon Balm in any way, nor was I given any compensation or consideration for this review. I just like the product, that's all.]
Since the age of fifteen, I've been keeping a running goal list. It's not a New Year's thing; I update and work on it year-round, but I do use the opportunity at the end of every year to give the list a serious overhaul. The list used to be a long piece of paper that I hung on my wall, but in recent years it became a file on my computer. I recently decided that the computer file is no longer serving my needs appropriately, so I'm going back to paper, but this time it's going to be in notebook form rather than a long scroll.
About a week ago I began the search for a notebook, which I thought was going to be lengthy because I'm kind of fussy about notebooks. I'm one of the few people on this planet who is not impressed by Moleskine— I tried one before and thought it was too… cold war. Everything about it reminded me of East Germany, which is odd because it's an Italian company. Not that Italy didn't go through that period. And not that I'm not a fan of cold war design in most contexts.
Anyway. So then it suddenly occurred to me that someone on Etsy is probably violating Moleskines with all sorts of non-traditional modifications, so I went searching for that, but instead I found an Etsy shop called Flamboyan, and they had some original handmade notebooks I really loved. Turns out, Flamboyan is actually a company in Istanbul who also have a shop on Pasaj, which I discovered is the Turkish version of Etsy. So I shopped around on Pasaj because there was free domestic shipping, and I ended up going for a notebook that was way girlier than I would have expected myself to choose. But I really really love it. The craftsmanship is just exceptional, and if you're not into girly things, Flamboyan offer notebooks in leather and suede, as well. I really can't recommend these notebooks enough. They're also packaged appropriately for giving as gifts, though if you're not in Turkey it may be a little late to aim for Christmas. Still though, the gift of a beautiful, one-of-a-kind handmade notebook would be welcome at any time of year.
Anyone who has known me for more than five minutes knows I'm a firm believer in the power of Creative Commons music releases. In fact, I love CC music so much that I review albums over at Frostclick just to help support the community. One thing I've been frustrated about in past years, however, is the lack of any decent Turkish CC releases. Don't get me wrong, I can deal with Turkish pop as well as the next person… up to a point. Of course, there are those kids out there who would rather die than go pop, and thus was born the Turkish independent death metal scene… which I can also tolerate up to a point. My tastes in metal tend toward the old-school.
The last time I did any in-depth checking, which was a couple of years ago, pretty much all the Turkish CC music I found was thrashy. Meh.
Then a couple of days ago it occurred to me to look again, specifically for artists in Turkey, and I'm pleasantly surprised at how much things have developed. There are at least half a dozen genres to choose from now, including trip-hop, disco, and post-rock.
Today I unearthed a little gem called Limited Hope, by an artist called Fuzzy Deal.
It's a little trippy, a little nu-loungey, and completely chilled. Check it out:
If you like what you hear, you can download the album here. Creative Commons releases are free, available to everyone, and 100% legal. Enjoy.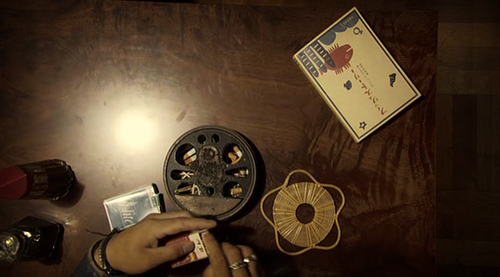 Fish Story has absolutely everything I love in a film. I can't really tell you what it's about in a few simple words, (A) because that would be like trying to sum up Pulp Fiction in a few simple words, and (B) because I don't want to risk ruining it for you. In fact, if you can get a copy of this movie and force yourself not to read the attached blurb or the synopsis on the back of the box, that would probably be best. Let yourself be completely surprised.
Just trust me, this one's a winner. Definitely the best film I've seen so far in 2010, and even if I count all the films I saw in 2009, it would still easily be in the top five. Maybe even still number one.
IMDB (warning: if you read more than a sentence or two on this page the plot will get spoiled pretty quickly)
NETFLIX (again, be careful what you read, because you can't un-ring that bell)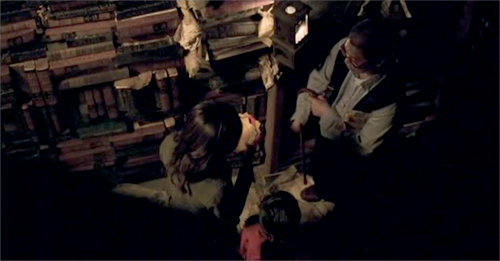 Last night I watched a film called 鬼域 (Re-cycle). This movie will mess with your head— I can't recommend it enough. The Pang Brothers managed to recreate the exact look and feel of nightmares, mixed with a little bit of bad acid trip. It's beautiful. And terrifying. I love the idea of there being a dimension where all the abandoned, discarded, neglected, and rejected things live. They managed to do creepy without corny.
And there was an excellent plot twist at the end.
Apparently there were people who complained that the film was basically pro-life propaganda, but in the end I think what the Pang Brothers said on that subject was sufficient— aborted babies were just one of about five zillion things that lived in the alternate dimension, but of course people conveniently ignore the other 4.99 zillion things when they see aborted fetuses and are determined to get their panties in a twist about it. Personally, had I not known about the controversy beforehand, the thought of it being pro-life evangelism never would have entered my mind. It was just a story about a woman struggling with decisions she made in her past… lots of decisions in lots of different areas of her life. It was also about the decisions other people made regarding her. Very complex film.
So many colour ideas: green, yellow, cyan, orange. Sometimes separate, sometimes paired, sometimes all together. A really, really beautiful film to watch.
If you're looking for this film online, it can be a little bit difficult to locate because of the name. The transliterated title is Gwai Wik— you can view the IMDB page here, or add it to your NetFlix queue.