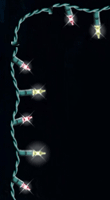 I just discovered a great holiday extra for those of you who are running Mac OSX.4 Tiger— Interdimension Media make a Widget called Festive Lights. In its default state Festive Lights is a string of decorative lights for your Dashboard, but if you combine it with the DevMode Widget by Jeremy Williams, you can drag your Festive Lights from the Dashboard out onto the desktop for neverending holiday spirit! For those who are technically impaired, here's a quick twinkly desktop bling walkthrough:
Make sure you are running OSX.4 or higher
Download and install the Festive Lights Widget (after downloading, the installer should run automatically)
Trick out your new Widget with as many custom lightsets as you like (download them from the same page as the Festive Lights Widget— follow the installation instructions) and get your twinkle-to-colour ratio set up exactly how you want it
Download and install the DevMode Widget
Click the red button on the Widget to turn DevMode to "On" (button should turn green)
Click and hold the mouse button down anywhere on your string of Festive Lights
Without letting go of the mouse button, press the F12 key (or whatever your Dashboard hotkey is) and exit Dashboard
Voilà! You've magically dragged your Widget out onto the desktop.
Admit that this is awesome, go back to the Interdimensional Media site and make a donation (this part is optional, of course, but supporting great little apps like this encourages future development and boosts your holiday karma)
Contact Jeremy Williams and wish him a happy holiday season for making it possible to drag your Festive Lights onto your desktop so easily.
Banishing the Festive Lights to the place from whence they came is simple enough, too: just hold down the option key, and you'll see the little X appear near the top left corner of your lights. Click on the X, lights disappear.
Time to get in the holiday spirit, everyone. Enjoy your lights!