Just like last week, here are my favourite Turklish finds from today's Thursday bazaar.
[click on each image to see a larger version]
---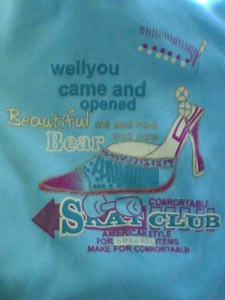 Well, you came and opened me and now…. and now… Skat Club! Somehow I doubt Skat Club is as comrortable as described, especially if there's a kitten-heeled shoe or a beautiful bear involved. And what the hell is that thing right below the shoe? Maybe we're not supposed to know. The first rule of Skat Club is you do not talk about Skat Club.
Upon further study, I thought I'd figured out that it was supposed to be "Skate Club," and that the thing below the shoe was wheels, but then that would imply that the people at Skate Club wear kitten-heeled two-wheeler asymmetrical roller skates, and that train of thought led to an even more disturbing place than Skat Club.
---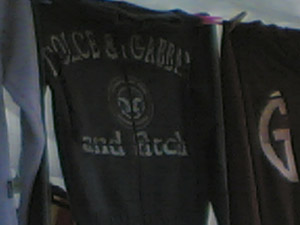 It can't possibly be fake— it's designed by Dolce and Gabbana and Fitch.
---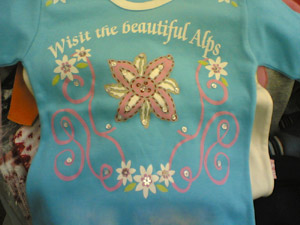 Good trawel adwice.
---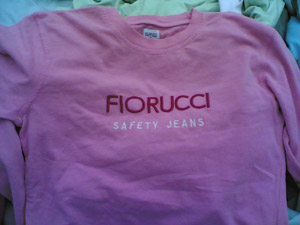 Fiorucci Safety Jeans— there's a Britney Spears joke in there somewhere.
---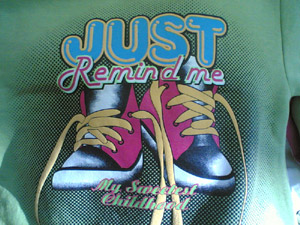 Just remind me my sweetest childhood— there's a Shirley MacLaine joke in there somewhere.
---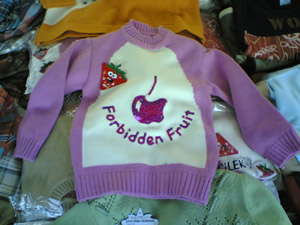 This is a small child's shirt— there's a Michael Jackson joke in there somewhere.
---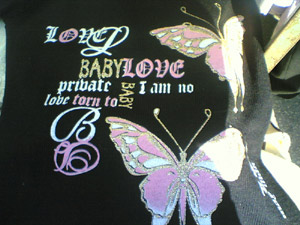 The words are arranged so that one can read them in various different orders, but nothing changes the fact that the word "torn" and the word "private" are too close together for my liking.
---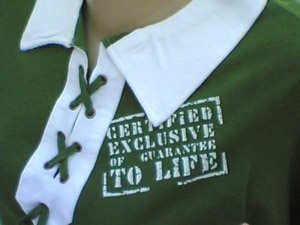 The perfect gift for an accident-prone loved one.
---
I'm not sure what's going on with the disturbing frequency of semi-sexual messages on children's clothing in this country… I tried like hell to get a shot of one kid I saw walking around the bazaar who was wearing a shirt that said "meet me in the frenchy-munchy corner, frenchy-munchy is our secret," but ironically his mother, who probably bought him the shirt, seemed to think there was something creepy about me wanting to take photos of young boys. Go figure.