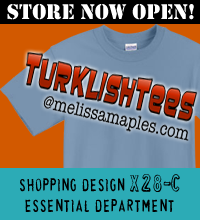 After months of being asked to find an easier way to distribute bazaar shirts, and weeks of hard work getting it all ready, the TurklishTees.com store is finally open for business! Now if you want to buy shirts and other items featured on the weekly bazaar, you no longer have to deal with the nightmare of the Turkish postal service or the inconvenience of international money transfers. You can get your Turklish fix direct from the online store and save all the hassle. Easy!
What you see in the store right now is only the beginning— as the weeks go by there will be new designs, weekly specials and limited edition designs, and even contests where you can win free stuff. There's also the opportunity to have your favourite bazaar shirt made into a custom one-of-a-kind design— just contact me for details.
The store ships worldwide, so everyone should be able to get any item they want easily. As soon as possible I would like to open up additional regional branches, especially for those in Australasia and Europe, just to make shipping even more straightforward— if anyone in those areas is aware of a good local distributor please let me know.
Thanks for your patience while I got the store ready— I wanted it to be everything you asked for and I hope I've hit the mark. Happy shopping!