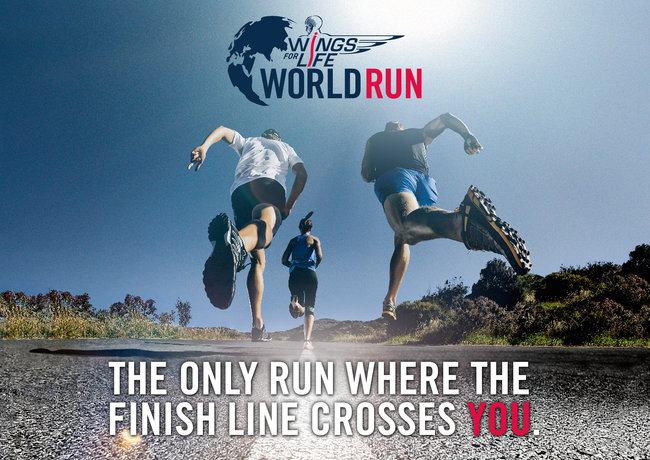 A couple of weeks ago I saw an ad on a bus shelter for the Wings for Life World Run, which I had never heard of before. I went home and did a bit of research, and then signed up on the same day. Turns out it's a new thing, and it's quite an unusual concept for a race.
Basically the idea is that the event takes place all over the world at the same time, i.e. some people will be running it during the day and some at night (it starts at 10.00 UTC, which is 13.00 here). At each location there's a start line, but no fixed finish line, so you're not running for time, you're running for distance.
The way that works is there's a catcher car at each race location— It gives the runners a half-hour head start, and then it slowly inches forward and starts to overtake them, one by one. There's a sensor on the catcher car that triggers your timing chip when the car passes you, and then you're done. You can then find out your official distance (as opposed to most races, where you would get an official time), and you'll be ranked against every other participant in the world.
Eventually what happens is that the respective cars catch everyone, and the person who runs the farthest wins. There are also other prizes— like being the best in your age group, for example.
The only goal is to stay ahead of the catcher car as long as you can. I'm hardly the fastest runner in the world, but I'm sure having a car chasing me will add some fuel to my proverbial fire.
So it looks like I'm finally going to get to see Alanya, and what an exciting way to do it! I've decided to make a weekend of it and stay a couple of nights, taking in the sights and all that. It's shaping up to be an interesting excursion, to say the least.