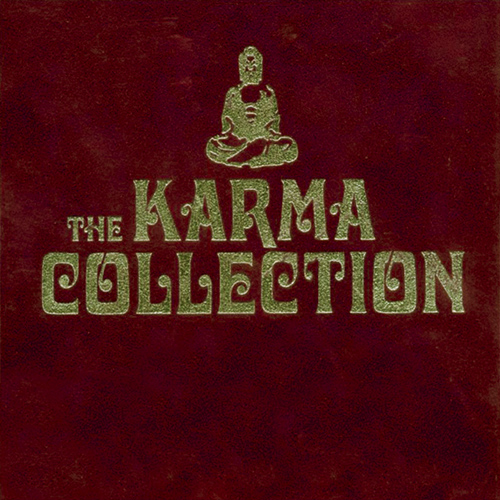 I never would have thought that something like The Karma Collection would be the catalyst to get me talking about music again… but here we are.
God, where to start? There's so much history.
In 1998, when I moved to England, I was suddenly exposed to a whole world of Indian and Pakistani sounds that hadn't been familiar to me before outside the music of the Beatles and some random Ravi Shankar tracks. The large percentage of people of Subcontinent descent in the UK means that their traditional and modern music has had a huge impact on the progression of UK music of all genres. I am a big fan of cross-cultural fusion, so this was fantastic news for me. It gave me a big range of new things to discover. I immediately became a fan of artists like Nitin Sawhney and Cornershop, whom I had never heard of before.
I was lucky enough to be attending university in Liverpool at the turn of the century, when Cream was having its last hurrah and was at its strongest and most vibrant. Now, it has to be said that I've never been a particular a fan of what I call "thump-thump" club music, but even so, the influence of Cream and Ministry of Sound (both the club and the record label) in the UK was undeniable, especially at that time. My school was just a few blocks from Cream, so of course it was like being at the epicentre of a pop culture earthquake.
By coincidence, in 2001 and 2002 the whole concept of pre-packaged "chillout" music was taking off in what we would now refer to as a viral way. This was Muzak for the younger generation, it was an updated and ultra-chic version of easy listening. For me, it was a more tolerable interpretation of thump-thump music, something I could actually see myself listening to in a non-club context, maybe. I liked it, but I didn't love it.
And then in the spring of 2002, the Ministry of Sound record label released The Karma Collection.
It's no secret that I'm a sucker for beautiful packaging. I think a lot of independent musicians in today's anti-record-label movement underestimate just how much great album art and package design can enhance the experience of the listener, and indeed can entice the listener to give the music a try in the first place. I remember walking into HMV, seeing the huge display of red suede boxes with the gold embossed Buddha on them, and immediately thinking, I'm having that. And the sale was literally that easy— I picked up a copy and took it home. I think subconsciously, I was looking for a way to get into the whole club music thing on my own terms, because as much as I didn't care for the more common thump-thump varieties, I wanted to understand what it was like to be directly affected by the nation-wide buzz surrounding major club releases, especially since I was so close to one of the major clubs in question.
The Karma Collection redefined "club music," "chillout," and "Asian influence" for me. It was certainly the best chillout album at that time, and even now I don't think there's anything that can hold a candle to it. Even subsequent Karma Collection volumes headed more in a straight-up pop direction, and none of them came close to capturing the magic of the original. This wasn't dance music, it wasn't pop, and it wasn't all Asian, either. Yet, it all seemed to fit together perfectly. I couldn't put my finger on a lot of it, and that's precisely what I liked about it. And any musical venture that includes a Rumi text is bound to push all the right buttons with me.
When I moved to Turkey in 2004, CDs were not at the top of my packing priorities. I ripped a few things to my iPod, and left the majority of my music collection in boxes in the UK. By then I was already buying most of my music online, so it didn't seem to make much difference in practice.
But recently, the friend in the UK whose attic houses my CDs had some free time on her hands, and asked if I would like her to do any maintenance work on my stored belongings. The very first thing that popped into my mind was that I wanted her to dig out my Karma Collection and rip it for me, which she kindly did.
Listening to the album again was like seeing an old friend after a half-decade absence. It has not lost one bit of its magic, and if anything I appreciate a lot more about it now that we've had a bit of space from each other. Personal university nostalgia notwithstanding, it's just a really, really solid compilation. There's not one track on there that I'd remove or change the order of. The progression makes perfect sense the way it is, and I can't even bring myself to listen to it on shuffle because it would ruin the artistry of the construction.
So if you don't like thump-thump music or regular chillout (I still don't care for either one), give The Karma Collection a try and see what you think. Believe it or not, you can still get the limited edition suede box via independent sellers at Amazon UK, though if you want to buy it in the US you'll have to pay import prices for a new one (used ones can be obtained for cheaper). I didn't have much luck finding the collection online— the 2003 version is widely available in digital, but is not the same album. And anyway, I think it's totally worth it in this case to be able to hold the red suede box in your hands and let it transport you back to the excitement of the time when club/chill/Asian crossover was just taking flight. It's a feeling that isn't really possible anymore in today's watered-down market of crap-'em-out-as-fast-as-we-can pop chillout compilations, and I think going back to these more esoteric Cream-heyday-era Ministry of Sound recordings is well worth the trouble it takes to obtain one.